Contact Dale now for a consult on the packages available;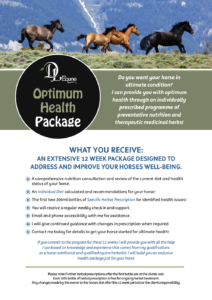 The Optimum Health Package is a cost of $275.00 for 12 weeks inclusive of postage.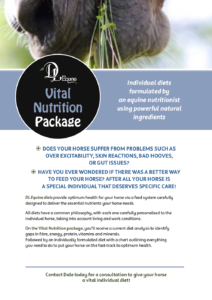 The Vital Nutrition Package is a cost of $60 per diet.
'Billy's Hoof Oil'
Has your ground gone from soft mud to rock hard? Does it rain then shine then the wind blow making the ground and your horses hooves grow and crack???
Now is the time to help keep your horse's hooves in top shape to cope with the changes!
'Billy's Hoof Oil'
Made from natural products such as Linseed oil, infused comfrey oil and infused carrot oil, its just the best conditioning treatment your horses hooves can get!
Farrier Recommendation
'I recommend Billy's hoof oil for any horses with brittle, cracked or dry hooves.
With the use of this oil, I have personally seen dramatic improvement in hardening and conditioning of the hoof in horses that couldn't hold a nail due to the fragile outer wall condition.'
Ted Thomas
Farrier
$47 for 300ml
Contact DL Equine today!