Are you losing precious riding time and money with horse health issues?
Are you feeling overwhelmed with all the amounts of different feeds for sale, all the glossy product labels that make magic claims?
You end up with huge feed bills and still you have that sinking feeling…how do you really know what it is your horse needs exactly?
Let DL Equine formulate an individual feeding programme for your horse, which results in you only buying the feed your horse needs for preventative nutrition. Giving you back control over your horses' health and your money!
You need DL Equine 'real world' advice backed by up to date scientific research.
Optimizing nutrition, is a basic principle at DL Equine.
This essentially results in allowing your horse to have the very best chance of a highly functioning body and immune system to slow aging, prevent illness, fight off illness or injury faster.
Reduce your vet health bills and give you more riding time and a longer future with your horse! …
"Nutrition is not an alternative medicine; it's an integral part of vibrant health."
How does it work?
Choose the programme you require from the list below. Click and pay via paypal or direct bank account. Distance consultations easily done via photo and video.
You will be sent a form to fill out on your horse's health and history information so that I can see exactly where your horse is deficient or out of balance. This enables us to work on particular health issues.
We work together via email and ph or personal visit to enable you to start your horse on the correct feedstuffs, liquid practitioner only prescribed herbs and excellent health.
DL Equine feeding programmes provide optimum health for your horse via a feed system carefully designed to deliver all the essential nutrients your horse needs.
Each programme is carefully personalised for the individual horse, taking into account living and work conditions, pasture, weight and condition score.
I work from information provided by yourself along with photos, videos. From this I calculate your horses requirements of nutrients, vitamins, minerals, protein, energy and fibre.
DL Equine offers the unique service of a diet tailor made to suit your horse's needs. This is formulated specifically for your horse as an individual. Combining my knowledge, qualifications and up to date research, we can overcome health and behavioural problems.
You'll receive a report outlining everything you need to do to put your horse on the fast-track to optimum health.
DL Equine Feeding Programmes
Optimum 4 Seasons Programme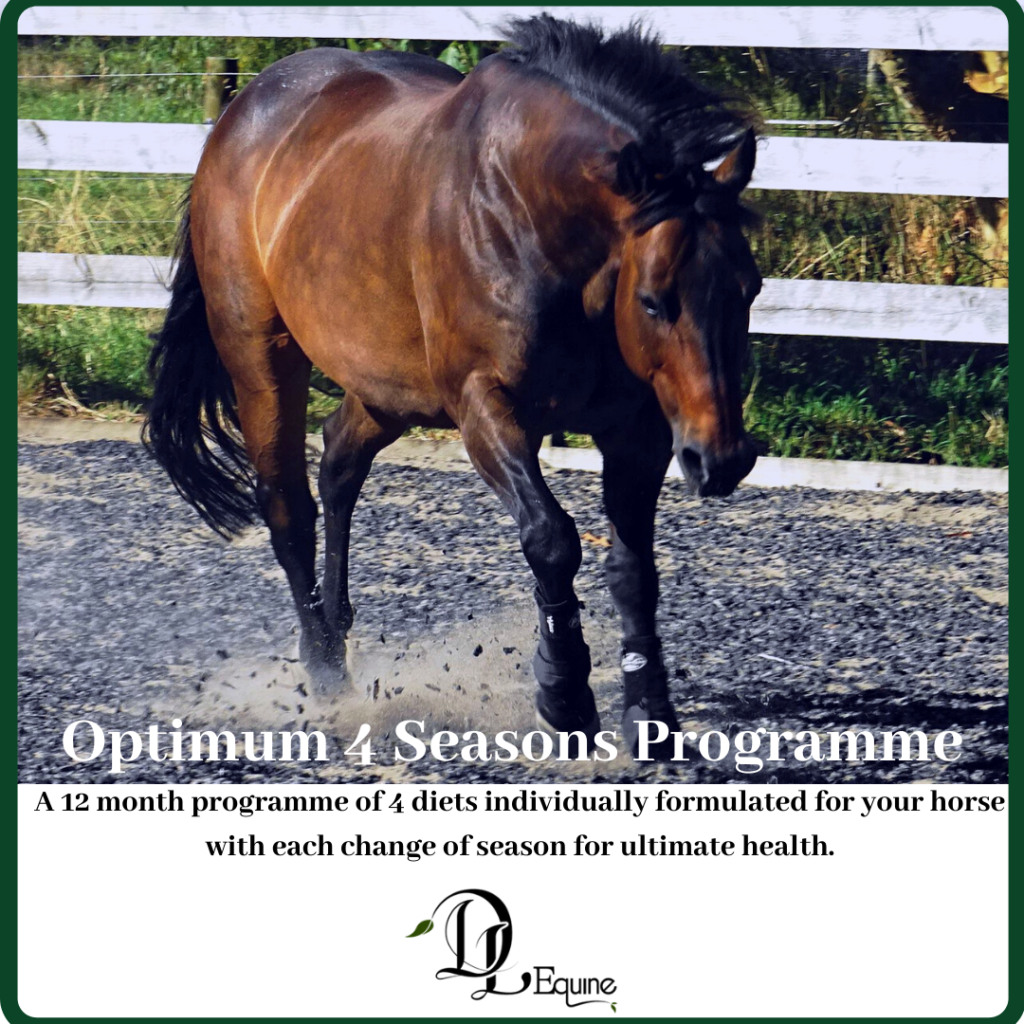 Is every season change a stress for you!
Just when your horse was going really well, you were enjoying your riding, the season changed, the grass changed, and your horses behaviour changed!
Let me take the stress out of each season for you by formulating your horses diet at each change throughout the year!
I can give you the peace of mind that comes with access to a nutritionist programme formulated specifically for your horse for a full 12 months!
This programme will take your horse through 4 diet consultations and reviews required as the years seasons and pasture change.
Let DL Equine provide your horse with ultimate health and performance.
What you receive:
• A comprehensive nutrition consultation including a review of your horse's current diet plan and health status.
• An individual feeding programme formulated for your horse's current requirements.
• 4 Individual diet reviews for each season and pasture change over a 12-month period.
• Regular monthly check in and support.
• Email and ph accessibility with me for assistance.
• Continued guidance with the nutrition plan.
• Peace of mind knowing you are spending your money on the right feed for your horse.
Vital Nutrition Diet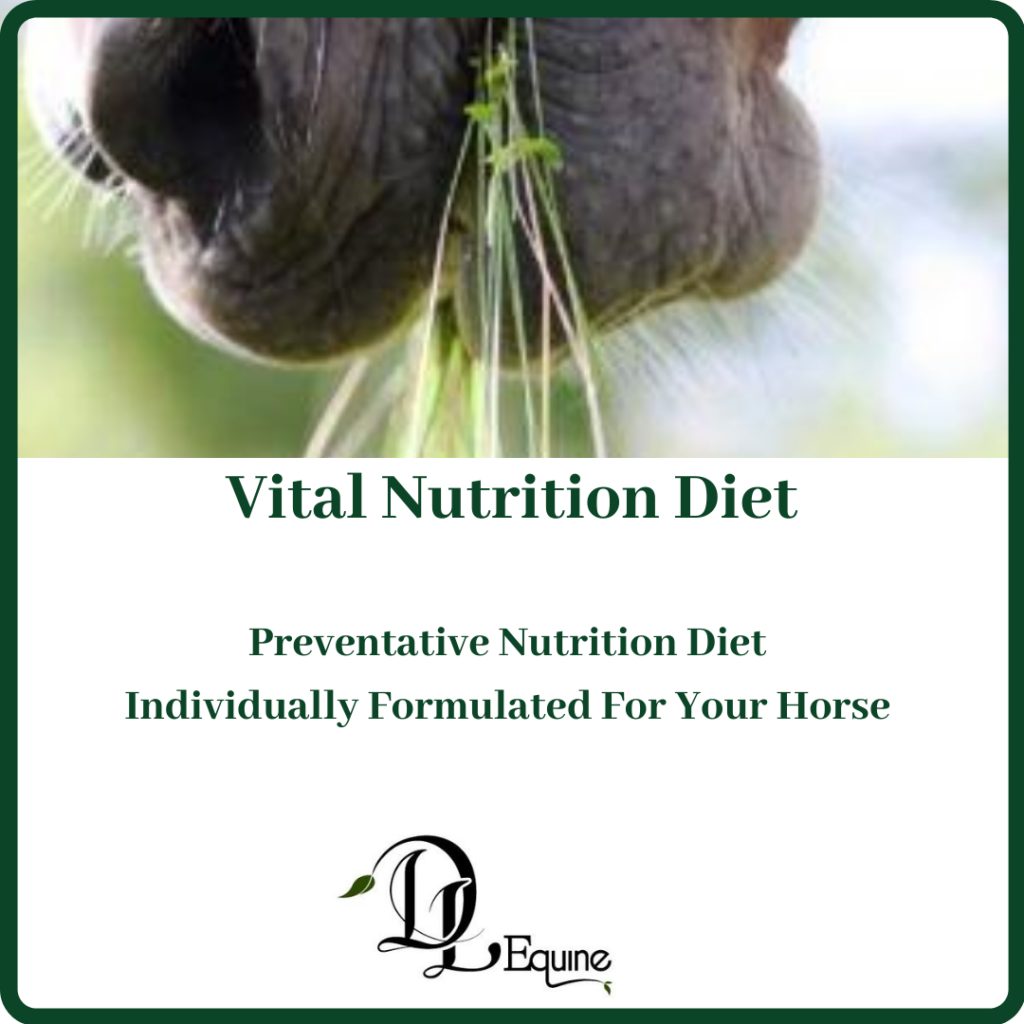 Are you looking forward to stepping up in competition with your horse this year?
Has your horse had an illness that you have had the vet out for multiple times but things still are not right?
It's time to get a completely balanced feeding programme tailor made specifically for your horse's needs.
Your horse deserves an individually formulated diet that can fast track him to ultimate health and drive your dreams by improving your horse's performance! $90