The DL Equine Nutrition Difference
Optimum nutrition leads to healthier horses and stronger performances, with less issues and fewer vet bills. The results speak for themselves. Enhanced muscle tone, beautiful coats, and calmer temperaments.

Diets and Allergy Treatment Testimonial
Liquid herbs given by syringe
What? you expect me to use a syringe and get a liquid into my horses mouth?! No way, my horse is a nightmare to worm, my horse wont take anything like a syringe into its mouth. My horse hates me putting stuff into his mouth.
My horse will not let me near her with a syringe, My horse is a clever one and soo fussy he wouldn't eat those herbs!'
Sound like you or your friend and their horse? I've heard them all believe me.
Liquid herbs across the tongue get absorbed fast into the bloodstream and straight to work. Why on earth would you waste more horse money on dry herbs that have way less efficiency??
You don't have to believe what I'm telling you. Watch the videos below.
One a sensitive warmblood mare, owned by Jane Pike , 1 whole week into her herbal prescription.
The other video in the video section is a super smart Arab who for most of her life wouldn't let her owner safely worm her with a syringe.
Horses have an innate instinct for knowing whats good for them and they know when they need herbs, they are after all 'Herbivores'
---
Gut Ulcer Repair
Here is a little snippet about Cairo's rehabilitation.
2 pictures attached. The first is from April 2018 and the other is Cairo looking great on 22nd October 2018.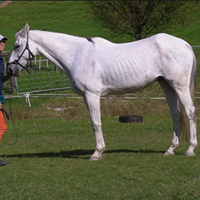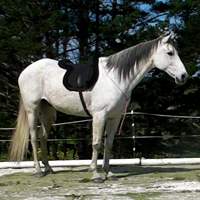 My horse, Cairo, had been losing condition and no amount of feeding seemed to be keeping him at a sufficient weight. He was leaving food in his bucket and showing signs of irritation when touched under his belly.
I had him scoped for ulcers and found that he had a severe case. Cairo went on medication for ulcers and I also enlisted the help of Dale for advice on maintaining his diet and health post medication.
She recommended a feeding plan and herbs specifically for his case.
Over the winter, when his condition usually drops the most, he regained condition. I am so happy to have a healthy horse again and to have learned so much about nutrition from Dale, who has been supportive and extremely helpful. I highly recommend her products and services.
Belinda Rodriguez
Waimauku Vaulting Club Manager
Skin allergy journey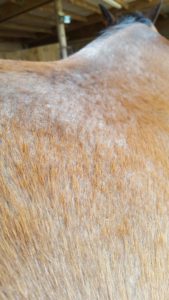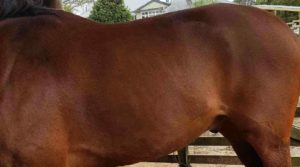 My horse was starting with hive like bumps then extending into huge welts. The skin then changed and started to show signs typical to that of bacterial rain scald causing scabs.
Later the coat was dull scurfy and brittle with patches of no hair growth.
He was going through a major itching issue during this period. Literally at my wits end checking feed, grasses, hay, tree pollen, etc. I tried everything, to the extent my vets were ready to get him on a trial with a Skin Specialist from the USA visiting here in New Zealand.
Speaking with Dale and after going through a detailed assessment she came up with a special feed program and an individual prescription of liquid herbs. Dale was professional and support and supportive throughout. His coat has come back with coverage, depth of colour, healthy shine and most important the itching has stopped. Many thanks to Dale for introducing me to Equine Herbal Medicine.
R Williams – Auckland, New Zealand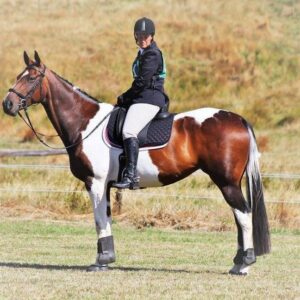 I started my two horses Ruby (station bred xTb ) & Quiver (Tb) on Dale's recommended diet 5months ago & have noticed a significant difference in their overall  condition & improvement in their hoof health, Quiver had very fragile hooves but they have become significantly stronger over the past 5 months.
Quiver is difficult to keep weight on but with this diet I have managed to keep her at a steady healthy weight. I have also been using Dale's herbal prescriptions for pain management when Ruby tore a piece of muscle from her cheek bone, foot access pain in Quiver, & helping with behavior modification as Quiver suffers from separation anxiety.
I would highly recommended using Dale's expertise in equine dietary needs & herbal health.
Kirsty Ansell – Working Equitation, Auckland, New Zealand
I was keen to get some proper nutritional advice for my 12 year old Clydie cross gelding who I had owned for 7 years.  As he is the type to "run off the smell of an oily rag" I had never really paid too much attention to any particular feeding regime.  However some key issues I wanted to improve upon were his coat condition and some extra energy in the "impulsion" department.
Dale was extremely thorough in her assessment of him and offered really sound nutritional advice.  I'm happy to report his coat improved dramatically – one friend actually thought I had bought a new horse as his coat had gone so dark and glossy. Energy levels had increased so that I have been getting really pleasing comments and marks in our Level 3 dressage tests. Sadly at one point I did stray away from the diet plan (no proper excuses other than busy with work and holiday plans) and there was an immediate difference in his behavior and coat condition. Big thank you to Dale for her food plan and I highly recommend her services.
 Amanda T Winstanley, CEqDT Certified Equine Dental Technician
I own an ex endurance Arab who has also been a broodmare and is now retired at the age of 22. The feed that DL Equine has recommended is balanced good feed and nutrition providing herbal health with arthritis and general overall health improvement.  Since Jasmine has been on the feed recommendation and herbal mixture she has gone from being a sour mare who I had to catch to apply the syringe of herbal mixture (she hates anything being syringed in her mouth and worming was a nightmare), to actually opening her mouth and grabbing for the syringe without having to catch her at all.  She appears brighter and happier all round and is moving quite freely despite her age.  I highly recommend anybody who is wanting to get the best out of their equine friend to try the products and recommendations of feed by Dale.
Debbie Quick – Auckland , New Zealand