Last year I felt was "the year of the gut ulcer' as the prominent issues I dealt with as a nutritionist.
I have had many many clients this year with horses with diagnosed, suspected or treated gut ulcers!
I also attended several webinars, podcasts and read more research conducted on EGUS.
I had the particular honour of having a one-to-one conversation about EGUS with Dr Ben Sykes.
Dr Sykes is a world leading expert on Equine Gastric Ulcer Syndrome (EGUS), he has pioneered research on EGUS with a focus on Equine Glandular Gastric Disease (EGGD) and has numerous peer reviewed publications to his credit including being the lead author of the current international consensus statement on EGUS in the adult horse.
I really want to pass some of this knowledge to you and empower you with a little more knowledge on EGUS or Equine Gastric Ulcer Syndrome.
---
What is it?
An occurrence of ulcers in the horse's gut system.
The equine evolved to digest small frequent meals of fibrous forages over many hours of the day while roaming. Because of the near-constant influx of material into the stomach, the horse developed the capability to constantly produce stomach acid. Nature taking care of itself, the saliva produced with the extensive chewing needed for the fibrous material in the diet helped to buffer the stomach acids.
However, there is now a high prevalence in the modern-day horse of that gastric acid causing ulcers – inflammation and erosion of the mucous membrane, where it is in contact with the sides of the gut.
Who gets ulcers? The shocking stats are that in unmedicated racehorses in active training is at least 90% have ulcers. And in non-racing performance disciplines, the figure exceeds 60%. So that's pretty much almost ALL our horses are at risk.
Lets start with a quick horse gut tour:
The horse stomach is divided into two distinct regions, the non-glandular region and the glandular region;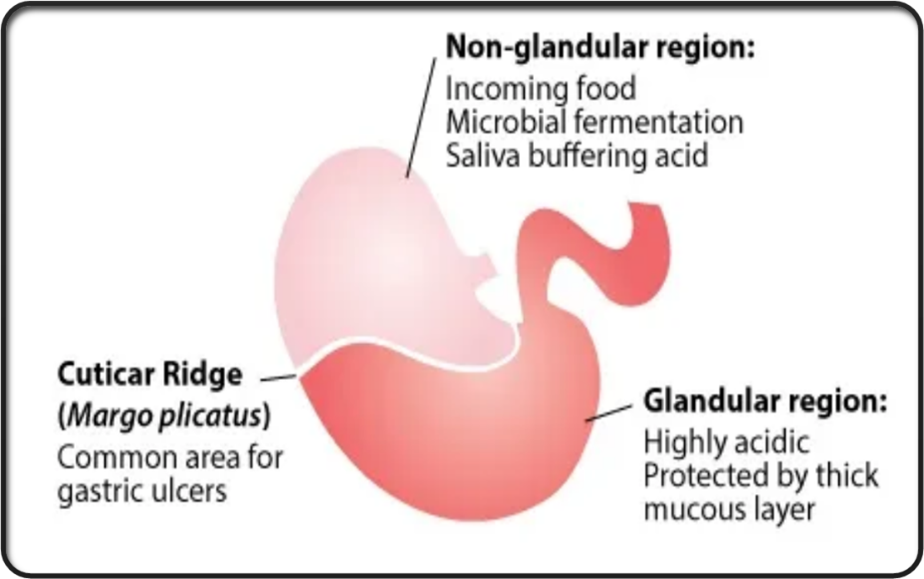 The esophageal region or squamous mucosa covers approximately one-third of the equine stomach, is void of glands, and is covered by stratified squamous epithelium similar to the esophagus.
The glandular region covers the remaining two-thirds of the stomach and contains glands that secrete hydrochloric acid, pepsin, bicarbonate and mucus. A sharp demarcation (cuticular ridge) separates the squamous mucosa from the glandular mucosa.
This acid is completely normal and necessary to breakdown feed.
The horse stomach continuously secretes variable amounts of hydrochloric acid throughout the day and night and secretion of acid occurs without the presence of feed material.
That's actually a hugely important point…The horses stomach CONTINUALLY secretes hydrochloric acid! About 1.5 liters of gastric juice hourly.
---
EGUS
Although EGUS can be found from the distal esophagus, stomach, and entrance into the duodenum, there are actually 2 different types of EGUS Disease.
(NB: There is also Hind Gut Disease-causing ulcers)
ESGD Squamous Gut Ulcers.
These are ulcers that occur in the upper portion of the horse's stomach.
This part of the stomach covered with squamous epithelium, has NO protection to the acid from the lower half and so if it splashes up, when there is NO fibre matt (food) present to protect the lining, it can cause ulcers which are very painful.
There are several factors that can cause ulcers in this region, including fasting, gastric acid clearance (gastric motility and emptying), aggressiveness of the gastric juice (acid, pepsin, bile acids, organic acids) and the process of desquamation.
Pressure increases inside the abdomen (associated with exercise), collapsing the stomach and forcing the acid gastric contents upward.
The more fluid (and highly acidic) contents of the lower stomach come in contact with the nonglandular squamous mucosa, causing inflammation and, potentially, erosions to varying degrees.
EGGD Glandular Gut Ulcers
These ulcers occur in the glandular, acid secreting bottom part of the stomach.
Much less known are the causes of ulcers in the glandular mucosa of the stomach Use of nonselective NSAIDs are known to reduce blood flow to the GI tract, causing decreased production of the mucobicarbonate matrix by the gastric glandular mucosa and resulting in ulceration. This is not a consistent finding, however.
Signs of UGUS
Typical clinical signs of ulceration may include any or all of the following, while sometimes horses remain asymptomatic (Geor et al., 2013):
Poor appetite or change in eating behavior
Weight loss and difficulties in maintaining normal body condition score
Poor hair coat
Reduced performance
Behaviour changes
Abdominal discomfort
Colic
Crib biting
Always be aware that many horses will not show the above symptoms and that can make it extremely difficult to prevent and treat.
---
Why do so many horses get EGUS?
Modern horse management has provoked problems in the digestive tract, especially the stomach, by interfering with the natural buffering of gastric acid with practices such as: meal feeding, sometimes as little as once a day; feeding higher starch/lower fiber concentrates; putting horses in intensive training programs; restricting movement by maintaining horses in stalls for extended hours in the day; keeping horses apart from a herd, traveling and competition stress, new environments; and early weaning practices.
The result of these management practices and the unnatural stresses of modern horse-keeping results in a higher prevalence of gastric ulcers, especially within certain types of horses.;
For example, Dr Sykes research has proven that the Warmblood breed has a greater chance of having gut ulcers.
Medication
If you have any of the above signs in your horse you MUST work with your vet.
The common medication that is required for the treatment of gut ulcers is Omeprazole. (a proton pump inhibitor) and also Sucralfate is another drug used as adjuvant therapy since it adheres to the surface of the ulcer and forms a protective layer, which favours the healing of the epithelium.
---
Nutrition for the horse with EQUS
Nutrition along with overall management (the reduction of stress) is an absolute priority for EQUS.
Prevention is KEY:
Research has shown that the nutrition, although similar, differs depending on whether the horse has Squamous or Glandular ulcers, (or indeed hindgut dysbiosis).
Squamous Ulcer Nutrition:
Make sure your horse has access to forage. Although a horse will not eat continually all day, do not let your horse go more than 3 hours without eating forage. This forage provides an important protective matt in the stomach that helps prevent that acid in the lower portion of the stomach from splashing up and reaching the upper squamous portion.
Chewing long-stemmed hay during the day and in particular prior to riding and traveling will really help in this way. The bonus is chewing produces saliva in the horse and this also has the important function of buffering that stomach acid!.
Hint: Feed hay from the ground level, this increases saliva and mimics the natural feeding state.
Stick to high energy fibre feeds such as chaff, and beet pulp and use a portion of lucerne as your forage.
Lucerne is actually one of the lowest chaffs/hays in starch levels and yet is also high in calcium – another important buffer for the acid in the gut.
Researchers found Omeprazole did not change the digestibility of any mineral except calcium. Calcium digestibility decreased by as much as 20% in horses given omeprazole. Therefore, a good supplementation of calcium is a must. Algae-Derived Calcium has been shown in research to be extremely good for ulcers.
Go very carefully with the grain and high starch pasture;
A horse is limited in his ability to digest starch, especially in large amounts. When horses consume too much starch (such as with a high-grain diet and high sugar/starch pasture) enzymes in the small intestine cannot properly digest it.
Once this starch is in the stomach, it is mixed with the hydrochloric acid that is continually produced and it undergoes a reaction.  In this form, the starch can enter the epithelial cells of the upper part of the stomach, causing them to become inflamed, and swell, and ultimately make the stomach wall lining more prone to ulceration.
Use fats like flaxseed oil instead of grain to provide your horse with starch-less energy (instead of grain) that will not result in ulcers or hindgut acidosis.
Feed a Prebiotic. Most importantly a product that has been tested, researched and can prove its worth! There is usually a reason why a product in this area is cheap! Look for a product with specific strains of Saccharomyces cerevisiae and also pectin and lecithin. Pectin and lecithin (in high amounts) will provide a great coating of slime that will protect the stomach.
Glandular Ulcer Nutrition:
This is a much more difficult area to treat, with stress reduction being of extreme importance for the horse with glandular ulcers.
The pathophysiology, risk factors, and treatment response for glandular ulceration in the horse differs from those of squamous ulceration, and unfortunately, the presence or absence of one does has no bearing on the presence or absence of the other.
Therefore, it is critical to have your vet perform a gastroscopy to identity possible glandular ulceration when EGUS is suspected and prescribe treatment accordingly.
In terms of feed, you would most definitely be feeding high forage and low amounts (or no) grain as above. Also, split feeds into small portions and feed multiple times a day.
Again, feed multiple different types of forage. Always allow your horse access to freshwater.
---
One final note here about EQUS.
Stress has been found to be such a huge factor in the development and occurrence of EGUS.
If your horse has EGUS, look at his pasture, his routine, his herd mates, the travel and competition; anything that can be stressor you MUST reduce.
I encourage you to introduce new forms of handling and management of your horse. There are some truly amazing people with many many resources that teach us about horse behaviour and learning to control their stress.
I hope you gained useful information here that is helpful in navigating the pathways of feeding your horse.
Drop me a line, pm or ph me if you have found this interesting.
Dale