Ultimate Health Through Optimum Nutrition
Imagine how it would feel to have a horse that did not suffer from health issues, gut problems, skin or respiratory allergies or bad hooves?
Imagine how you would feel knowing you were spending your hard-earned money wisely and not throwing it away on feed stuffs your horse didn't actually need?
That would feel incredible right??
As a qualified horse nutritionist, I can fast track your horse to optimum health with a preventative nutrition feeding programme.
This is formulated specifically for your horse as an individual. Combining my knowledge, qualifications and up to date research, we can overcome health and behavioural problems.
DL Equine believes in treating each horse as an individual and stimulating its own powerful healing abilities with the right nutrition.
DL Equine offers offers the unique service of a diet tailor made to suit your horse's needs.
Giving your horse a well-balanced specific diet will allow you to:
Provide an individual feed system that supplies the essential nutrients your horse's exact needs for energy, growth, body maintenance and repair.

Provide your horse's body with preventive nutrition, which includes a beneficial diet with specially-chosen herbal remedies will first treat, then ultimately prevent, illness and injury.
The result? – A happy healthy horse, fewer vet and feed bills.
Sound like what you're after? Let's do it!
Contact Dale today for a Feeding Programme with 'real world' advice backed by up to date scientific research.
Distance consultations easily done via photos and videos.
View the testimonials page to see 'real' results, an individual feeding programme and herbal medicine really work!
Need a horse feeding support guide to enable you to meet and support your horses nutritional needs?
Grab your copy of the e book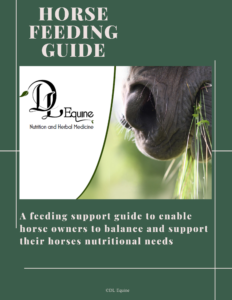 Read the latest nutrition blogs below